There is some concern amongst professional drivers, following an alarming number of deaths from Coronavirus within this profession that better personal protection was not made available.
Most of these unfortunate deaths were within London transport, and all of them were regarded to be fit and healthy. However, Emeka Nyack Ihenacho was asthmatic, and he was one of nine bus drivers who have lost their lives to the Coronavirus in the UK.
A study in biomedical central (BMC) on infectious diseases in 2011 found that bus or tram use was associated with an almost six-fold increased risk of developing an influenza-like infection during flu season.
Although tuberculosis spreads differently to flu, another study in Houston within that year found that the incidence of TB was almost eight times higher among commuters who spent more than an hour a day on the bus.
Most people with Coronavirus will recover within about a week of getting symptoms and will not need medical care, but some people will need to be treated in hospital – including the prime minister.
Boris Johnson, who is 55, is currently being cared for in St Thomas' hospital in London after his symptoms worsened.
Some people are at higher risk of complications.
This includes people over the age of 70, regardless of whether they have a medical condition or not, and people of any age with underlying health conditions, such as heart disease.
There are more than 1.5 million people in the UK who are at the most significant risk of needing hospital treatment if they catch Coronavirus.
This includes people with cancer who have been receiving chemotherapy. They are being asked to stay at home all of the time to shield themselves from the virus.
What are the coronavirus symptoms?
Coronavirus infects the lungs. The two main symptoms are a fever and a dry cough, which can sometimes lead to breathing problems.
The cough to look out for is a new, continuous cough. This means coughing a lot for more than an hour or having three or more coughing episodes in 24 hours. If you usually have a cough, it may be worse than usual.
You have a fever if your temperature is above 37.8C. This can make you feel warm, cold or shivery.
A sore throat, headache and diarrhoea have also been reported, and a loss of smell and taste may also be a symptom.
It takes five days on average to start showing the symptoms, but some people will get them much later. The World Health Organization (WHO) says the incubation period lasts up to 14 days.
Gender bias
Coronavirus also appears to disproportionately affect men in their 50s and 60s to a certain degree, although they are not singled out as a high-risk group because it's not that clear-cut.
Why older men?
Researchers are not sure why this might be.
UK data from intensive care hospital wards shows the average patient who is critically ill is aged 60. Most are men, and many have other health conditions that could put them at increased risk, such as heart problems and obesity.
Of the 647 coronavirus-related deaths registered by the Office for National Statistics in England and Wales up to the week ending 27th March, 44 were aged 45-65 – around 7% of the total.
Death rates go up with age in both men and women, but men tend to outstrip women across the generations.
Data from China, where the pandemic began, also suggests men are at higher risk than women, although experts caution there could be factors other than gender, such as smoking habits, that could explain the link.
Prof Ian Hall, Professor of Molecular Medicine, University of Nottingham, said: "I am not convinced this completely explains the increased risk of severe disease in men, so it seems possible there may be some other as yet unidentified factor playing a role."
Men are more likely than women to have heart disease, diabetes and chronic lung disease.
Some have suggested genes, and sex hormones might be involved too.
Are women more immune?
Prof Philip Goulder, an expert in immunology at the University of Oxford, said: "It is becoming increasingly recognised that there are substantial differences in the immune system between males and females and that these have a significant impact on outcome from a wide range of infectious diseases.
"The immune response throughout life to vaccines and infections is typically more aggressive and more effective in females compared to males."
This could be down to women carrying two copies of the X chromosome, compared to the single X and a Y that men have.
Many critical immune genes are located on the X chromosome, he says.
Is Coronavirus causing the deaths?
Every year, about 600,000 people in the UK die. People with underlying health conditions and the elderly are most at risk, just as they are if they have Coronavirus.
Nearly 10% of people aged over 80 will die in the next year, Prof Sir David Spiegelhalter, at the University of Cambridge, points out, and the risk of them dying if infected with Coronavirus is almost precisely the same.
How can you protect yourself?
Stay as fit and healthy as you can by exercising and eating a balanced diet.
If you smoke, now is a good time to quit.
Men are more likely than women to:
smoke and smoke more cigarettes per day and smoke hand-rolled tobacco

eat too much salt
eat too much red and processed meat
eat too little fruit and too few vegetables

drink alcohol and drink at hazardous levels
Coronavirus spreads when an infected person coughs or sneezes small droplets – packed with the virus – into the air. These can be breathed in, or cause an infection if you touch a surface they have landed on, then your eyes, nose or mouth.
So, coughing and sneezing into tissues, not touching your face with unwashed hands, and avoiding close contact with infected people are essential.
Wash Hands
Viruses can be active outside the body for hours, even days. Disinfectants, liquids, wipes, gels and creams containing alcohol are all useful at getting rid of them – but they are not quite as good as normal soap.
Why does soap work so well on the Sars-CoV-2, the coronavirus and indeed most viruses? Because the virus is a self-assembled nanoparticle in which the weakest link is the lipid (fatty) bilayer. Soap dissolves the fat membrane and the virus falls apart like a house of cards and dies – or rather, we should say it becomes inactive as viruses aren't really alive.
If I have symptoms, what should I do?
If you have a new, continuous cough or a fever you should stay at home and self-isolate for at least seven days.
If you, or someone you live with, develop symptoms, the entire household needs to isolate for 14 days to monitor for signs of the disease.
What should I do if my symptoms don't get better?
The main reason people need hospital treatment is difficulty breathing.
In the UK, the NHS 111 website will guide you through what you need to do.
If you are so breathless that you are unable to speak more than a few words, then you will be told to call 999 as this is a medical emergency.
When do people go to the hospital with Coronavirus?
If you become so ill that you've stopped doing all of your usual daily activities, then the website will advise speaking to a nurse by dialling NHS 111.
You are at risk being hit with hefty penalties if they take their eyes off the road to have a drink when driving.
While it's not illegal to have a non-alcoholic beverage when driving, drivers can be hit with a careless driving charge if it causes them to be distracted. However, it is illegal to pay for a McDonald's drive-thru with your mobile phone.
If you take your attention off the road to have a refreshment, police officers can deem you were "driving without due care and attention".
Motorists can also find themselves in trouble if they're spotted eating behind the wheel.
Driving without due care and attention, or careless driving, carries a £100 on-the-spot fine and up to three penalty points on your licence.
But in more serious cases where someone has been injured, you could face an unlimited fine, up to nine penalty points and even a court-imposed driving ban – although for the majority of motorists, the fine won't exceed £5,000.
An Australian man was recently fined $173 (£94) for drinking water behind the wheel on a 39-degree day.
Another Aussie was threatened with a $500 (£256) fine and three penalty points on her licence because she was drinking a coffee when driving.
While officers are more likely to give a warning than a fine, it is essential to keep your concentration on other road users.
A study by the University of Leeds found motorists who ate while driving were 44 per cent slower than usual and if you need a drink or have something to eat, make sure to do it when you've completely stopped or pulled over.
A reckless Brit was recently captured eating a bowl of cereal at wheel in Manchester. The video shows a man has no hands on the wheel, with one hand grasping a bowl and the other shovelling spoonfuls of breakfast into his mouth.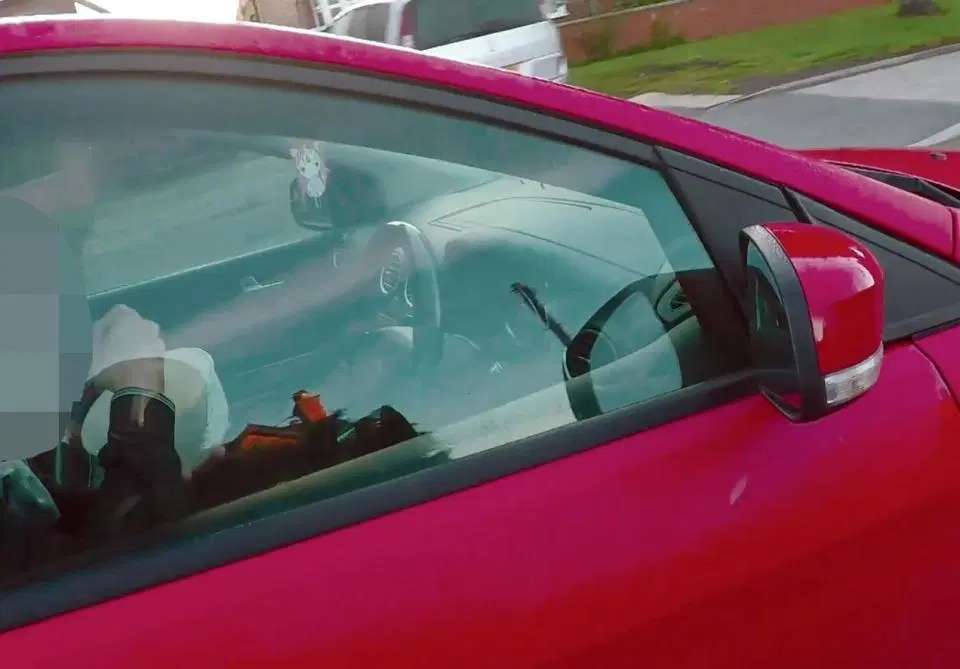 Neil Greig, director of policy and research at IAM RoadSmart, said: "Eating at the wheel is just another classic example of multi-tasking that can take your attention away from safe driving." Obvious cases such as juggling hot drinks or a sandwich can be easily spotted by traffic police who can issue an on the spot ticket for careless driving.
Drivers could be faced with pay-per-mile road charging and other fresh levies to plug a £40 billion financial black hole caused by the mass advent of electric cars, which are currently exempt from road tax and generate no fuel duty revenue.
The news comes after the cross-party Transport Select Committee announced it was starting a "national debate" on road pricing, with a formal inquiry beginning in 2020.
The Committee highlights that "road pricing does not only mean tolls", with congestion and low emission zones being other possibilities, along with extra fees for heavy goods vehicles, and workplace parking levies.
Citing a desire to encourage a "modal shift" away from cars, and decarbonise the transport sector, the Select Committee wants the national debate to be open to "drivers and non-drivers alike", while the inquiry will consider the pros and cons of road pricing and its economic, environmental, and social effects.
Pay-per-mile charging
Road tolls, GPS data loggers (mandatory on new cars from 2022), the UK's vast ANPR camera network (which scans 10 billion number plates a year), or a combination of all three could be used to charge drivers based on the length of their journeys.
Workplace parking taxes
Drivers who park at work could be charged for the privilege of doing so. Nottingham council already runs a WPL scheme, charging employers (including schools) with more than 10 staff £415 per parking space, per year. Birmingham is also proposing a WPL.
More charging zones
London's Congestion Charge Zone generated £1.9billion in net revenue up to 2017, while the ultra low-emission Zone charges owners of pre-Euro 6 diesel cars or pre-Euro 4 petrol extra to enter the Zone.
Other towns or cities that have considered or are considering emission zones include Birmingham, Bath and Glasgow.
HGV levies
Lorries weighing over 12 tonnes are already liable for the HGV levy, which costs up to £1,200 a year, depending on lorry type and emissions class. Foreign trucks are also subject to levies. Ministers could opt to increase the charge of make its conditions stricter.
The UK's long road to road charging
The fact that the Treasury faces a huge revenue loss due to EVs not using petrol or diesel and currently being exempt from VED has been an elephant in the room for some time. It was only last week that the Institute for Fiscal Studies recommended the introduction of road pricing to recoup lost fuel duty and vehicle excise duty (VED) revenue. Back in 2007, the then Labour government scrapped proposals that would have seen drivers pay up to £1.30 per mile following public opposition.
Auto Express, meanwhile, submitted a Freedom of Information request to the Treasury in October 2018 asking what methods the Government was considering replacing VED and fuel duty revenue lost to EVs. Our request was refused as it related to "an area of live policy development."
And in 2017 Edmund King, president of the AA, and his wife proposed a 'Road Miles' system that would see each driver given an annual mileage allowance that they could trade or swap with other drivers, while also being able to buy extra miles by entering auctions and lotteries.
Announcing the start of the debate, Lilian Greenwood, chair of the Transport Select Committee, said: "We need to ask how we will pay for roads in the future and in answering that question we have an opportunity for a much wider debate about our use of road space, cutting carbon emissions, tackling congestion, modal shift and how we prioritise active travel.
Through the weekend and into next week it looks like heavy rain at times and strong winds, it stays wet and windy until the end of Wednesday.
Then comes the cold with temperatures are set to sink below freezing in Scotland by the middle of the month.
That means odds on a white Christmas are sure to be slashed with conditions set to get much worse in 2020.
falling temperatures so far this month have prompted an early flurry of bets on us having a White Christmas this year.
"As always in our White Christmas betting, the Scottish and northern cities in England have the shortest odds on snow fall but we are also seeing bets on London seeing the white stuff this year."
Weather forecaster James Madden explained why things are about to change.
"October is now looking like it will turn out to be colder than average with more of a chance of something wintery setting in through the second half of the month," he said
There is a strong chance of widespread frosts and the chance of snowfall which will set the scene for November.
This will pave the way for what is shaping up to be a colder than average winter with some extreme cold weather events.
While these could start to make an impact within the next few weeks, they will be particularly troublesome from December onwards.
Snow events have been few and far between in recent years, but this winter is looking favourable to bring snow event after snow event as weather systems from the Atlantic clash with cold stagnated air over the UK.
This is relevant as solar energy effects ocean currents including the Gulf Stream currents which have a knock-on effect on the jet stream brining cold air in the UK and bringing these weather patterns.
Applying these factors to long-range weather indications can successfully allow us to identify cold weather patterns coming up.
Similar methods have allowed us to identify some previous record-breaking cold weather events such as those seen in 2010 and 2013 when cold weather lasted into spring
Money to burn – Don't throw it away.
Thousands of drivers could find themselves stuck with a hefty fine if they fail to declare medical conditions to the Driver and Vehicle Licensing Agency (DVLA).
Whilst some conditions are more of a given, such as epilepsy and heart conditions, others are rather less obvious.
Eating disorders and Déjà vu also make the list of illnesses that should be declared to avoid being slapped with a £1,000 fine.
Motoring experts at LeaseCar.uk has published a list which the DVLA say they must be told about.
A spokesperson said: "There are some conditions however, that seem too unrelated to even consider spending the time to fill out a form to tell the DVLA about.
"If you suffer a broken limb or severe head injury that affects your memory or ability to perform everyday tasks, you're also probably not going to be able to operate a vehicle safely either.
"In these cases, it seems obvious that you'd have to let the Driver and Vehicle Licensing Agency know about it."
Amanda Stretton, motoring editor at Confused.com, also added: "Knowing which conditions you do and don't need to flag to the DVLA can be confusing. Things that might seem minor, such as headaches and déjà vu, can actually affect your ability to drive safely.
"Many drivers don't realise that an undisclosed medical condition can not only result in a hefty fine, but also invalidate your car insurance. If you're in an accident and you need to make a claim, but you've not notified the DVLA of your condition, this could be a real issue."
The medical conditions that could see motorists hit with a £1,000 fine if not declared:
Déjà vu
We often talk about this in passing when we feel like we have seen, heard or said something very similar before as the French terms literally translates in to "already seen".
But surprisingly, it is one of the health conditions that the DVLA say could affect your driving.
However, this applied to medically induced déjà vu which can be associated with certain types of epilepsy.
According to the NHS, a symptom of simple partial (focal) seizures, or 'auras' as they may be known, is "a feeling that events have happened before (déjà vu)."
Sleep Apnoea
Sleep Apnoea
Sleep Apnoea is a relatively common condition which sees the walls of the the throat relax and narrow during sleep which interrupts normal breathing.
Man with sleep apnea and CPAP machine
This can lead to interrupted sleep which can have a negative impact on your health and your life increasing the risk of developing certain conditions.
It could also cause you to fall asleep at the wheel and it goes without saying that this is very dangerous.
Eating disorders
Though it may not be immediately obvious that an eating disorder could affect your ability to drive, side effects of such ilnesses could cause you to feel weak or dizzy.
Therefore it is something you must tell the DVLA if it affects your ability to drive safely. This can be spoken about with your doctor if you are unsure.
Labyrinthitis
Labyrinthitis is an inner ear infection that causes the delicate structure deep in your ear – called the labyrinth – to become inflamed.
This can then affect your hearing and balance which can be crucial when it comes to getting behind the wheel.
© PA Photo/thinkstockphotos Labyrinthitis is an inner ear infection​
Usually, the infections will clear up in a few weeks and there would be no need to declare this as a medical condition.
However in some cases, symptoms can last longer and impact your ability to carry out regular tasks.
This can include some hearing loss and changes in vision, such as blurred vision or double vision.
Arthritis
A common condition that affects more than 10 million people, arthritis causes pain and inflammation to a joint such as the hands, spine, knees and hips.
If the condition affects your driving and has lasted more than three months then you should contact the DVLA.
Other medical conditions
Heart conditions, diabetes or a brain condition or severe head injury as well as epilepsy, stroke, neurological and mental health conditions and physical disabilities and visual impairments should also be decalred.
You can find a full list of the medical conditions the DVLA need to know about on the Government website here.
Drivers who cause death when looking at their mobile phoneswill face life in jail for the first time under Government plans to be revealed on Monday.
In a major hardening of sentencing guidelines, ministers will propose raising the upper limit of imprisonment for dangerous drivers who kill from 14 years to a lifetime.
It is designed to send a "clear message" that people who cause "immeasurable pain" to families with reckless driving should be given a "punishment that fits the crime".
The move comes after a string of high-profile cases where children have been killed when people at the wheel failed to brake while being distracted by their phones.
Last year, 122 people were sentenced for causing death by dangerous driving and a further 21 people were convicted for killing someone when under the influence of drink or drugs.
Ministers have become concerned at whether the punishments are harsh enough, with evidence showing the average sentence for causing death while driving is less than four years.
Sam Gyimah, the justice minister, said: "Killer drivers ruin lives. Their actions cause immeasurable pain to families, who must endure tragic, unnecessary losses.
My message is clear – if you drive dangerously and kill on our roads, you could face a life sentence
Sam Gyimah, the justice minister
"While impossible to compensate for the death of a loved one, we are determined to make sure the punishment fits the crime.
"My message is clear – if you drive dangerously and kill on our roads, you could face a life sentence."
Ministers will tomorrow propose increasing the maximum sentence for causing death by dangerous driving or when under the influence of drink or drugs from 14 years to life.
They will also suggest creating a new offence of causing serious injury by careless driving, with a maximum sentence of three years.
Dangerous driving includes speeding, street racing and also using a mobile phone when at the wheel, which ministers have become increasingly concerned about.
In October, a lorry driver who killed a woman and three children by hitting their stationary car while looking at his mobile phone was jailed for 10 years.
Tomasz Kroker, 30, smashed into the vehicle carrying Tracey Houghton, 45, her sons, Ethan Houghton, 13, and Josh Houghton, 11, and her stepdaughter, Aimee Goldsmith, 11, at 50mph on August 10.
Their car was shunted underneath the back of a heavy goods vehicle and crushed to a third of its size, immediately killing the family, from Bedfordshire, at the scene on the A34 dual carriageway north of Newbury in Berkshire.
Kroker, from Andover, Hampshire, had pleaded guilty to four counts of causing death by dangerous driving and one count of causing serious injury by dangerous driving at Reading Crown Court on October 10.
The court had heard that Kroker, who himself had become a father five months before the incident, was so distracted by his phone that he barely looked at the road for almost a kilometre.
Passing sentence, Judge Maura McGowan said his attention had been so poor that he "might as well have had his eyes closed".
Just an hour earlier he had signed a declaration to his employer, promising he would not use his phone at the wheel.
Kroker's truck ploughed into a stationary queue of two lorries and four smaller vehicles which were stuck behind a slow-moving articulated lorry near the villages of East and West Ilsley at around 5.10pm.
A man was seriously injured and four other people were hurt in the horrific accident.
Ref:
https://www.telegraph.co.uk/news/2016/10/31/mobile-phone-truck-driver-who-killed-family-of-4-is-jailed-for-1/
https://www.telegraph.co.uk/news/2016/12/04/drivers-kill-mobile-phones-will-face-life-sentences/?WT.mc_id=tmg_share_fb&fbclid=IwAR3wMFVm7_d2xDoAEJj7xUtFYCVCLG6RmiHxa6X0ky6tRgM_aJj12FJ6_1I
Breaking down in a live lane on an all-lane-running (ALR) section of a 'digital road' – more commonly known as a smart motorway – is over 200% more dangerous than doing so on a conventional motorway with a hard shoulder, a damning report by the organisation responsible for running motorways has revealed.
According to Highways England's own hazard log data, breaking down in a live lane of an ALR smart motorway is 216 per cent more dangerous than doing so on a conventional motorway with a hard shoulder.
The data was revealed by a Highways England report written in 2016 and only recently discovered by the AA. Entitled 'Stationary Vehicle Detection Monitoring', the report also references data on breakdowns in live ALR lanes of the M25 between junctions 25 and 26, which shows the average time for Highways England CCTV operatives took to spot a broken-down vehicle in a live lane was 17 minutes and one second, with one breakdown taking over an hour for operatives to spot.
The AA also sent a Freedom of Information request to Highways England, which revealed that there are 135.1 miles of ALR smart motorways in England, but only 24.2 miles are covered by a system that automatically detects vehicles broken down in live lanes.
This is spread over two sections of the M25 – one from J5-6 and the other from J23-27.
Stationary Vehicle Detection (SVD) – a radar system capable of automatically detecting stationary vehicles across multiple lanes – can spot a broken-down vehicle 16 minutes faster than human CCTV operatives on average.
When a vehicle is detected by SVD, an alarm in the operations centre is triggered, causing staff to investigate and take necessary action, closing the appropriate lane and setting digital signs to warn other drivers.
In ALR schemes were SVD technology is not used, 36 per cent of live lane breakdowns took over 15 minutes to find.
The report also reveals HIghways England's targets give a three-minute window in which to set a signal change, such as bringing up a red X symbol to close the lane, when a vehicle stops in a live lane.
Highways England says this target does not change, regardless of by which method the broken-down vehicle is detected.
The report's revelations are at odds with Government evidence given to the Transport Select Committee in September 2016, when the Committee heard Stopped Vehicle Detection systems would be applied to all sections of ALR smart motorway.
SVD will not not be operational on the M3 J2-4a until 2021, while other schemes currently in development are set to be completed in 2022.
The M4 will be fitted with other emerging technology instead, but Highways England has not confirmed what this will be.
In addition, the AA has learned that seven per cent of Highways England's CCTV overlooking motorways is in ALR sections, roughly proportionate with the six per cent of the UK's motorway network that is comprised of ALR roads.
These cameras are of the 'Pan, Tilt and Zoom' variety, which means they can only look in one direction at a time. If an incident occurs in northbound, for example, and the camera is looking southbound, an operative is unlikely to spot the incident until the camera is turned around.
Edmund King, president of the AA, described the news as a "truly shocking revelation". He said: "Taking three minutes to set the red X is too long for someone in a broken-down vehicle to wait.
Expecting someone to wait in a dangerous and life-threatening position for 20 minutes is simply inexcusable."
Max Brown, head of smart roads at Highways England, commented: "The evidence is clear that smart motorways improve safety, with or without automatic stopped vehicle detection systems.
The latest generation of smart motorways have helped to improve safety by at least 25 per cent.
"Our trials on the M25 have shown that a stopped vehicle detection system can be a valuable extra tool to help spot incidents more quickly, and the technology is being designed into all the smart motorway projects that we start constructing from next year.
"Meanwhile we are looking how we could provide the same benefits on all our other recently opened smart motorway upgrades and work on installing a stopped vehicle detection system on the M3 smart motorway in Surrey and Hampshire is already underway."
Until 2015, drug driving was the 'safe' option by some motorists. That doesn't mean they necessarily thought they were in a fit state to get behind the wheel, it just means that perhaps thought they wouldn't get caught.
While the dangers and consequences of drink-driving have been well-publicised, drug driving was clouded by complicated laws and difficulties for police testing at the roadside. Making it difficult to detect when a driver was under the influence and easier to get away with.
Research conducted by road-safety group THINK! revealed that around 20 per cent of people know someone who has driven after taking illegal drugs.
Of those who admitted to driving under the influence of illegal drugs, 55 per cent said they did so because they felt safe to drive as it gave them a false sense of confidence.
In 2015, new laws were put into place, and there are now strict "zero tolerance" rules around drug driving and technology to catch the motorists at the roadside. In fact, even the smallest amount of narcotic consumption could result in a positive roadside test and a driving ban, along with a fine and criminal record.
Since these new laws came into effect, an average of four UK motorists every day are found guilty of driving under the influence of drugs, and drivers are now as likely to be found guilty as those who drink and drive.
But it's not just the 'recreational' (and illegal) narcotics which can cause drivers issues. Prescription medication can also restrict your ability to drive, and it is crucial to know what the legal limits are and how soon you can get behind the wheel after taking them.
For illegal drugs, the rules are simple. If you have taken drugs, you shouldn't drive. Unlike the guidelines for alcohol which suggest safe limits for driving, the government guidelines only allow for the merest trace. Even after a few days you may still have traces of the drug in your system which could be detected by a roadside saliva test.
To help with detection, police use 'drugalyser' kits, which take a sample of saliva to test for common recreational drugs such as cannabis and cocaine at the roadside. The check takes around 10 minutes to deliver a result, and a positive test will end in your arrest and a further blood sample being taken at a Police station.
Since the new laws were introduced, they can also run blood tests at police stations for drugs such as ecstasy, LSD, ketamine and heroin without having to gather evidence that the driver seemed to have impaired driving ability, as was previously required.
The results of those blood tests will decide if you will be charged. Apart from very small amounts, which are deemed as 'accidental exposure' (such as passively breathing in cannabis smoke in a room at a party, for example) you are likely to fall foul of the law.
Even these small amounts are likely to attract questions from the police, regardless of the quantities involved, as they are simply illegal.
Driving while on prescription medication
The question of 'legal', medicinal drugs is more complicated. Many prescription medications can leave you unfit to drive, and the best advice is to seek the guidance of your doctor, pharmacist and to read the packaging carefully before taking them to see if they will affect your ability to drive. If you fail to do so and get caught or have an accident, don't expect the law to be on your side.
The government does publish the legal levels for 'medicinal' drug driving limits (below), but there is no way of a driver knowing what these levels mean. It is impossible to provide a rule of thumb for what dosage equates to the threshold levels as it differs from person to person and is affected by variables such as diet, water intake and exercise.
As always, the rule is that if you are in any doubt at all, do not drive a vehicle.
Punishments for drug driving
The laws and punishments for drug driving run along the same lines as those for drink driving. Risk it, and you are likely to lose your licence, face a stiff fine of up to £5,000 and be given a criminal record.
In addition, users of illegal drugs will face other charges for possession and are likely to be asked some awkward questions too.
Ref:https://www.msn.com/en-gb/cars/news/drug-driving-uk-laws-explained/ar-AAG6Yij?ocid=spartandhp
Spain's health ministry issued an international alert over the country's biggest ever listeriosis outbreak on Wednesday as the number of people affected rose to 150, including one fatality.
Amid concerns over possible infection among the more than 80 million tourists who visit Spain annually, the ministry said it was checking another 523 suspected cases.
Most confirmed cases have been recorded in the southern region of Andalusia, where the packaged pork plant linked to the outbreak is situated. But there have been others as far away as Catalonia in the northeast and more around 50 people remain in hospital.
Listeria is an illness caused by eating foods contaminated by the bacteria, Listeria monocytogenes. Listeria infection (also known as listeriosis) is uncommon but it can cause death in at-risk people,
such as the elderly and people whose immune systems are not working properly. Listeria, usually causes mild illness but can be dangerous to pregnant women, 23 of whom are among those still hospitalised, and those with weakened immune systems.
The ministry said it had issued alerts to EU authorities and the World Health Organization over the outbreak, which was on Tuesday confirmed to have killed a 90-year-old woman.
The plant in question, owned by Seville-based Magrudis, was inspected by health authorities after lab tests showed the presence of listeria in one of its products, the ministry said. All products manufactured in the plant since May 1 have been recalled.
The company has not responded to requests for comment.
"Obviously there was a failure to follow the established procedures," acting health minister Maria Luisa Carcedo told reporters. "Now we need to carry out the inspections and investigations to figure out exactly where this failure took place."
Listeria high-risk foods
The following high-risk foods should be avoided:
Ready-to-eat seafood such as smoked fish or mussels, oysters or raw seafood such as sashimi or sushi
Pre-prepared or pre-packaged fruit and vegetable salads including those available from buffets, salad bars and sandwich bars
Drinks made from fresh fruit and vegetables where washing procedures are unknown (excluding pasteurised or canned juices)
Deli meats which are eaten without further cooking or heating, such as pate, ham, Strasbourg (Stras) and salami and cooked and diced chicken (as used in sandwich shops)
Any unpasteurised milk or foods made from unpasteurised milk
Soft-serve icecreams
Soft cheeses, such as brie, camembert, ricotta and feta (these are safe if cooked and served hot)
Ready-to-eat foods, including leftover meats, which have been refrigerated for more than one day
Dips and salad dressings in which vegetables may have been dipped
Raw vegetable garnishes.
Animals can carry the bacteria and infect meat and dairy products. The bacteria can also come in contact with other foods while in a processing facility and is capable of living there for years.
Listeria symptoms range from mild to severe
Early symptoms include:
Fever
Headache
Tiredness
Aches and pain.
These can lead to more serious problems, including:
Meningitis (brain infection)
Septicaemia (blood poisoning).
Symptoms generally occur about 3 weeks after coming into contact with Listeria bacteria, but symptoms may occur as quickly as 3 days or as long as 2 months.
Listeria is dangerous for pregnant women
Pregnant women with listeriosis may experience only mild flu-like illness, but the unborn child suffers the serious effects of the infection.
Even a mild infection can cause:
Miscarriage
Stillbirth
Premature birth
A baby who is very ill when born.
Other people who are at high risk of listeria
People at high risk include:
The elderly
People whose immune system is weakened by illnesses like cancer, liver or kidney disease and diabetes
People on medications like prednisone or cortisone. This includes organ transplant patients.
What is the treatment for listeriosis?
There are several antibiotics that are effective against this bacterium. However, Listeria infection affecting the central nervous system can be fatal even if the patient is treated with antibiotics.
This is particularly likely in the elderly and in people with other serious medical problems. Early diagnosis and rapid use of antibiotics are critical for a successful recovery. When infection occurs during pregnancy, antibiotics given promptly to the pregnant woman can often prevent infection of the fetus or newborn.
Babies with listeriosis receive the same antibiotics as adults, although a combination of antibiotics is often used until physicians are certain of the diagnosis. (NOTE- it is very important to finish your antibiotics, even if you begin to feel better, unless otherwise directed by your health care provider.)
Conclusion
The Listeria bacterium has a Jekyll and Hyde personality and it is well adapted as a organism which gets its energy from dead and decaying organic matter (saprophyte) for peaceful survival in soil and decaying vegetation (Dr. Jekyll)
However, it has a second life as a bacterial pathogen capable of causing serious infection in humans and in many animal species (Mr. Hyde)
In its Mr. Hyde phase, the bacterium is a significant public health hazard, responsible for an estimated 28% of deaths attributable to known food-borne pathogens.
How a humble soil-grown bacterium transform into a deadly invader.
The transformation appears to be mediated through complex regulatory pathways that produce virulence factors in response to environmental cues.
Once the bacteria are ingested by a human, the increase in temperature and exposure to acid in the stomach stimulates increased production of stress response proteins that kick starts the bacterium into its virulence state.
People at risk can prevent Listeria infection by avoiding certain high-risk foods and by handling food properly.
The bacteria are able to live in a wide range of conditions and environments—they can tolerate both acidic and salty conditions, both high and low temperatures, and a fairly low moisture content.
These characteristics allow the Bacterium to survive a long time in a variety of food products and food processing plants.
Because the bacteria can multiply and persist in food processing plants for years—even more than 10 years in one documented case—Listeria is especially hard to control and can result in intermittent contamination of food. Unlike most bacteria, it can grow and multiply at low temperatures, making the bacteria a potential problem even in properly refrigerated food.
This information is intended for educational purposes only and is not intended to replace consultation with a health care professional.
​It doesn't take a genius to realize that sleep is beneficial for the body. After an uninterrupted sleep session, you feel refreshed, full of energy and ready to take on the day.
The importance of sleep goes beyond boosting your mood and energy levels. In recent years, scientists have gone to great lengths to understand the health benefits that sleep brings. In this article we'll be looking at exactly how sleep enhances your health.
1 – Better Memory
Numerous studies have shown that sleep has a positive effect on your memory and allows the brain to become much better at remembering things.
Researchers believe this is the result of a process known as memory consolidation whereby the brain recalls skills learned while you are awake.
2 – Enhanced Concentration
Sleep is like nutrition for the brain. When you get enough of it, the chances of losing concentration during the day are much less.
This makes you much more alert while you complete your daily tasks and has a direct positive impact on your effectiveness, productivity and performance.
3 – Faster Muscle Growth
The body releases growth hormone and builds new muscle cells while you are sleeping. Not only does it renew and revitalize your cells, but it also repairs any tissue damage.
This is particularly beneficial if you perform weightlifting workouts, as the intense exercises that make up these workouts tear your muscles slightly so that they can grow back bigger and stronger.
Sleep provides your body with the platform it needs to fully repair these torn muscles and maximize your muscle size and strength.
4 – Increased Fat Loss
Researchers have found that getting enough sleep can help you eat less and even accelerate the rate at which your body burns fat.
Sleeping helps to regulate the levels of ghrelin and leptin in your body – 2 hormones that control hunger and appetite.
It also stimulates the production of human growth hormone – a hormone which supports and speeds up your body's fat burning processes.
5 – Improved Physical Performance
If you're an athlete who wants to improve your performance, getting good quality sleep every day can help you achieve this goal.
Researchers at Stanford University ran a study on college football players who slept for at least 10 hours daily over several weeks.
They found that not only did the well-rested athletes increase their average sprint times but also felt less tired and had more stamina during the day.
6 – Reduced Stress Levels
When your body is sleep deprived, it goes into stress mode. Its functions remain on high alert which causes a spike in blood pressure and cortisol – the stress hormone.
High blood pressure increases your risk of heart attacks and stroke while being stressed has a negative impact on your mood and increase your risk of falling into depression.
By ensuring that you get enough sleep on a regular basis, you can keep your body out of stress mode and stay in a calm, relaxed state.
Summary
As you can see, there are so many reasons to enjoy quality sleep. So, if you're not currently getting at least 6 hours every night, make some changes to your lifestyle right now, set aside the time for quality sleep and start enjoying all these benefits.